(c) July 2000,
Urs Künzler
&nbsp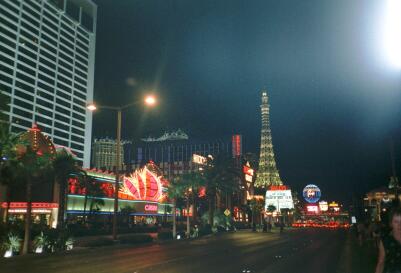 Las Vegas was just a whole lot of fun. No big storries to tell. Just have to enjoy it. Be prepared to have fun.
Dinner buffet for about $12 in the Luxor hotel and casino. Make a reservation.
Watch all the casinos on the strip. See the shows at Treasure Island and Bellagio. Go roller coaster in New York New York. Feel the italian athmosphere at the Venetian and see Eiffel Tower in fron of Paris.
Skydive Las Vegas. You'll never forget your dive from 10000 feet, view over

hoover dam

, the desert and Las Vegas. Start from

Boulder City

Airport. Keep smiling!
Have fun in Wet-n-wild. This big water park has a lot of things to offer that are unique to Las Vegas. Just enjoy the rides, the speed and the water.
Enjoy nightlife, for example in The Drinks.
Enjoy a real bed and luxury in the Mardi Gras Hotel
And don't be surprised to see people gambling when you go to bed or even when you get up early and all day long. Slot machines are on duty 7x24, even in gas stations.
Btw. hotels and food are quite cheap, but gambling, shopping and other attractions can by expensive.