(c) July 2000,
Urs Künzler
&nbsp
---
This unique tour traverses three distinct regions of the West to create an incredible combination of beautiful mountains, national parks, cowboy country, Indian lands, desert lakes and cities. With a week each in the Cascades/Northern Rockies area, the Colorado Rockies and the Desert Southwest, this is truly the complete Western experience - Rocky Mountain style!
From the Emerald City of Seattle to the jewel of the Cascade Mountains, Mt. Rainier National Park, follow one of America's most scenic and wild rivers, the Snake, into the Big Sky cowboy country of Montana. There is no better introduction to the Rockies than the twin national parks of Yellowstone and Grand Tetons. Experience even more of the wild west in Jackson and outdoor adventure in Colorado's Rocky Mountain National Park, before visiting the capital of the Rockies, Denver.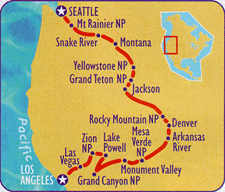 Follow some of America's most spectacular mountain roads to old gold rush towns such as Ouray, and enjoy truly thrilling whitewater rafting en route to Black Canyon. Discover ancient Indian culture at the Anasazi cliff dwellings in Mesa Verde National Park, then go horseback riding with the Navajos amidst the splendour of Monument Valley. For a different perspective, the experience is heightened with the spectacular views of Grand Canyon NP. Cool off amidst the desert glory and clear blue waters of Lake Powell, before one last wondrous look at yet another awe-inspiring national park, Zion. We then return to civilisation via the casinos and neon of Las Vegas, before finishing our trek in the City of Angels, Los Angeles.
---
Trip Planner
Trip Day

Date Mo/Day

Day of Wk

Nightly Stops

Accommodations
Showers=S, Laundry=L
Pay SH=$, Pool=P

Options/Activities
Prices

Miles

1

8/7

S

Yakima KOA
800-562-5773
S $ L P

First Night Camping

190

2

8/8

Su

Missoula KOA
800-562-5366
S $ L P

Drive; Photo Tour

435

3

8/9

M

Sun Canyon Lodge
406-562-3654
S $ L P

Horse Back Riding $35-50

220

4

8/10

Tu

Grizzley RV CG
406-646-4466
S $ L P

Drive; Photo Tour

350

5

8/11

W

Hiking; Old Faithful

-

6

8/12

Th

Wagon Wheel
307-733-4588
S $ L P

Hiking

120

7

8/13

F

Blue Arrow CG
800-587-5342
S $ L P

Drive; Photo Tour

520

8

8/14

S

Hiking

-

9

8/15

Su

Royal Gorge KOA
800-562-5689
S $ L P

White Water Rafting $35-50

286

10

8/16

M

Rock Gardens CG
970-945-6737
S $ L P

Hotsprings $5-8

200

11

8/17

Tu

Slick Rock
435-259-7660
S $ L P

Hiking

200

12

8/18

W

Mountain Biking $40

-

13

8/19

Th

A+A RV Park
800-972-6630
S $ L P

Hiking tour the Palace

130

14

8/20

F

Mittenview CG
435-259-7660
S $ L P

Jeeps $25

135

15

8/21

S

Camper Village CG
520-638-2887
S $ L P

Flights

200

16

8/22

Su

Hiking

-

17

8/23

M

Periah Canyon Ranch
435-689-0398
S $ L P

Swim; Cliff Jumping

150

18

8/24

Tu

Zion Canyon CG
435-772-3037
S $ L P

Hiking; Photos

130

19

8/25

W

Mardi Gras Hotel
S $ L P

Limo tour; Sight Seeing

160

20

8/26

Th

Free Day; Wet-n-Wild $28

-

21

8/27

F

Hacienda Hotel
S $ L P

Good Bye!

285
---
This Trek was booked by